What better way to start off a football post with a cliche??
It's a game of two halves..
..and my FPL season certainly was too. Last season was the first I took semi-seriously. I had looked at some of the player data previously, but primarily to use as a data set in some of my presentations and demos.
I'll start off with a narrative of my season before jumping in to some of the numbers.
Executive summary: I had a good early strategy, jumped off too quickly and became too reactive. This forced me to introduce more risk into my squad for the second half of the season (double and triple team assets) which paid off.
My strategy was to be aggressive with some early punts (based on the first few fixtures) before wildcarding early in the season. The aim was to try and jump on some price hikes as an early mover, increasing the value of my team for the second part of the season. This worked fairly well, as I scored 64+ points in four of the first six gameweeks and wildcarded after gameweek 3.
Unfortunately, my strategy for the season ended there and I scored lower than 50 points in eight of the next thirteen gameweeks. I began to focus too much on the week-to-week game play and made knee-jerk transfer decisions. I wasted transfers on sideways moves that didn't improve the value of my team or return more points.
The value of my team was improving with Pope, Henderson, Lundstrum, Robertson(?), Mount, Pukki, Mane and Vardy primarily responsible. I rotated captaincy of Vardy and Aguero, so was rarely captaining my transfers in. What was the point??
This forced my hand in the second half of the season to introduce some more risk. I was an early mover on Bruno and introduced triple United attack into my team for the run in to the season. I also tripled up on Wolves assets with their easy run in and triple City attack. This led to five 65+ and four 50+ gameweeks in the last ten to end the season.
A deeper dive into the numbers. I'll start with my points scored, because (at the end of the day) that's why we play the game.
I finished on 2,223 points (210k+ rank). This averages to about 59 points per gameweek. My aim for the season was to average 65 points per gameweek, which would result in 2,470 points (~top 20k rank).
I visualized my points per gameweek below. The blue weeks I score 65+ points, yellow weeks between 50-65 points and red weeks less than 50 points. My gameweek scoring can be split evenly into these three point segments. This isn't good enough to achieve my aims for the season.

But why didn't I score well?
The two main reasons for my poor scoring in the first half of the season were my captaincy picks and lack of bonus points.
My poor transfer strategy aside, I did a poor job of selecting my captain from within my own lineup! I only picked the optimal captain from my lineup in eight of the thirty-eight gameweeks. That's less than a quarter of the time!

This poor decision making resulted in a loss of over 200 potential points that was already in my lineup. The one large middle finger from gameweek 19 was Trent's explosive haul against Leicester City on Boxing Day.

I also fell victim to the now infamous Sadio double gameweek triple captain return of three points.. By comparison, Trent would have returned 36. Moving quickly along..
The beloved Bonus Points System was the second reason for a lower scoring first half to the season. I averaged five bonus points from my lineup in the first half of the season. Only two players on average would receive bonus points in my team.
In the second half of the season, these averages increased to three players returning seven points. That would have been an extra ~40 points on the season.

Keeping bonus points in mind will play a larger role in my decision making moving forward. I think this will be an important factor when choosing non-premium options for my team. Defenses outside of the top 6 that keep cleans are a magnet for bonus points. Also keeping an eye on mid-priced attacking assets, such as Ings, Jiminez and Maupay, that have high bonus returns due to the talisman theory.
My three Liverpool assets for the majority of the season all earned me high bonus. Trent's bonus return in particular make him a more attractive captain option for next season.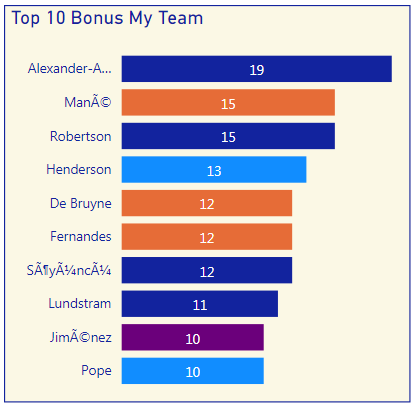 To end on a more positive, what enabled this late season upturn in form? The increased value of my team allowed the flexibility of more aggressive transfers, asset concentration and captaincy picks.

Using an early wildcard to become an early mover on some value increases worked well for me. It's a strategy I will try to use again for the coming season. However, this needs to be paired with more discipline with my transfers. Using a wildcard for some value punts is fine, but transfers should be limited to targeting premiums as captaincy options or obvious value increases based on form and fixtures.
My takeaways for next season:
Don't be afraid to select multiple assets from one team. Take the calculated risk to take advantage of a good run of fixtures (both for attacking and defensive returns)
Stay disciplined and stick to the template for the first part of the season. Don't try and chase returns after a poor gameweek.
Be aggressive targeting premium fixtures for captaincy.
Use bonus points as a key factor in deciding wildcard/transfers for both premiums and non-premiums