A much too early post revealing my final-ish draft before the fixtures are released. The two main considerations for my draft were high ownership percentage and transfer flexibility.
Another cliche: you can't win a league in the first few weeks but you can use it. Go template at start to see trends. These typically go hand in hand, as premium assets are highly owned and diversifying to cheaper players is easier than consolidating assets to get to a premium.
Team Selection
I've outlined my template and selections below. Bold players are nailed in my team.
GK – 4.5 (Ryan/McCarthy), 4.0 (Button/Nyland)
DEF – Trent, Doc, 4.5, 4.5 (Taylor/Vinagre/KWP/Saliba/Lamptey), 4.0 (Ferguson/Mitchell)
MID – KDB (Sterling), Bruno, 8.0, 7.5 (Ziyech/Greenwood/Maddison/Mount), Foden
FWD – Werner, Wood/Antonio, 4.0 (Davis)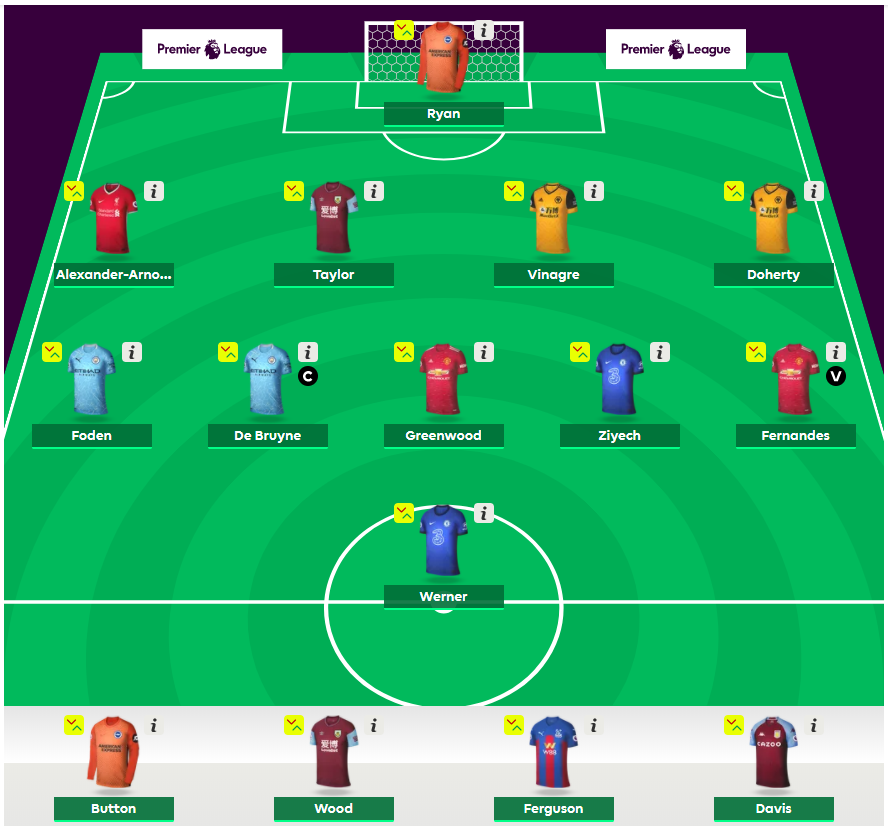 My Watchlist
GKP – I'm waiting to see who starts the season in goal for Villa. I'm also keeping an eye on Sam Johnstone at West Brom.
DEF – My 4.0 enabler spot will go to one of Ferguson or Mitchell from Palace, depending on pre-season minutes. Saliba could be in my team for gameweek 1 depending on Arsenal fixtures. He seems a cheap way into top six cleans.
MID – I am worried about not having Salah. It seems dumb only having one Liverpool asset and a combined three assets from Liverpool & City. Maddison and Mount look good value as a differential, but Leicester look decimated with injuries and I don't know where Mount will fit into the Chelsea team. Ziyech is a bit of a punt this early in the season. However, at 8.0 I cant transfer up to Rashford or down to some of the 7.0/7.5 midfield options.
FWD – I would rather have Jiminez at 1.0 less than Werner, but the Chelsea man has such high ownership. I'm not as high on Chelsea this year as others, but they do have huge attacking upside potential.
Captaincy
My gameweek 1 captain will likely be one of KDB and Bruno. This season, I'm aiming to be more aggressive with premium options as my captain based on fixtures. I want to limit taking transfer hits to enable this strategy. The option to captain Trent based on good Liverpool fixtures makes it easier to leave Salah out for me.